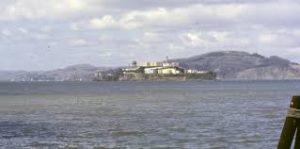 Alcatraz was once a federal prison that was used to hold the most notorious criminals such as George Kelly and Al Capone. Today, it has become a significant national landmark and one of the most sought-after San Francisco attractions. Alcatraz Island still has the remains of the federal prison among other landmarks such as the warden's house ruins and parade grounds. Since 1972, Alcatraz is now part of the national recreational area. In 1986, it became designated as a National Historic Landmark.
Alcatraz can only be accessed by a tour. Tickets for the tours often sell out within a few days or weeks in advance. If you are planning to visit Alcatraz, you need to book a city tour which is inclusive of admission to the popular penitentiary. This allows you to enjoy sightseeing either using a Segway, boat, bus, or bike. City tours usually cover attractions such as North Beach, Coit Tower, Ferry Building, and Chinatown. Other tour services combine Alcatraz visit with a Sausalito bay cruise, cable car ride, or a tour to Muir Woods. Alcatraz Island has a self-guided cell house that allows visitors to explore the island at their own pace. In addition, there are video presentations, park exhibits, and ranger-guided tours around the park, a full prison experience at Alcatraz will take you about two and a half hours.
Timings
Cruises to Alcatraz depart San Francisco every thirty minutes between 9 am and 4 pm. The early bird tour leaves the city at a quarter to nine in the morning. The limited night tour gives the visitors an opportunity to stay up to 9.30 pm. this night tour includes both a guided walk to the prison from the dock and a boat narration. Most visitors prefer visiting in summer and spring which makes tickets harder to get during those seasons.
Tips before visiting
Tickets to Alcatraz include a round trip ferry trip. This means you can choose any ferry back to the city since they are available every thirty minutes. The ferry rides, though beautiful, are very chilly which necessitates carrying a jacket. From the ferry dock, the walk to the prison is hilly and steep. To aid accessibility, an electric shuttle was installed. It departs from the ferry dock after every half an hour for any visitors who need assistance to get up. Another important tip to note is that there are no wheelchairs provided at the prison. However, there are elevators at the cell house to aid movement.
Check out this tow truck service who helps pay for our site to be up.
Towing service in San Francisco is available 24 hours a day for your convenience and safety.
Auto Towing
1229 Underwood Ave,
San Francisco, CA 94124
+14153335559

San Francisco, CA 94133, USA
For more information about Golden gate park, we have a read for you. There are so many things to see and participate in, such as Botanical Gardens, near Inner Sunset San Francisco. You could spend a whole week just in this park with museums, wild animals, nature and more.
If you want to know more about neighborhoods in the city, such as College Hill San Francisco read our blog. It discusses some of the classic neighborhoods as well as others.